Disenchanted with your analytics' lack of ROI? You're definitely not alone. In fact, Gartner's findings are that 54% of leaders surveyed are disappointed with the results of their analytics investments. In their Marketing Data and Analytics 2020 survey[1], over half of the 415 marketing leaders and analytics practitioners they spoke with are "unimpressed".
Gartner's Lizzy Foo Kune explains that:
Though CMOs understand the importance of applying analytics throughout the marketing organization, many struggle to quantify the relationship between insights gathered and their company's bottom line. In fact, nearly half of respondents in this year's survey say they're unable to measure marketing ROI.[2]
In other words, their analytics tools are producing plenty of data, but it's poor quality. And what makes it "poor quality"? It's not actionable. It doesn't illuminate the path to revenue and productivity acceleration. That's why the marketing department (and the sales department, for that matter) in any given company has a difficult time demonstrating their contribution to ROI.
This obviously fuels stress and frustration for the C-level. Indeed, according to multiple surveys of more than 400 senior business leaders in 160 key Fortune 1000 C-suites, 96% of these leaders perceive their marketing and communications departments as "unwilling or unable" to demonstrate ROI[3]. Now, a lack of accountability is one thing. But the bigger problem is that without insight into what activities are getting results, leaders are unable to set achievable targets, strategize effectively, or coach for better performance.
With poor quality data, nobody is set up for success. Put simply: unactionable data is not the right data for growth.
The right data for growth is actionable, period
We often say that every company, at this stage of history, is a big data company. In fact, in 2020, International Data Group reported that small to medium sized businesses were managing around 47.81 Terabytes of data[4]—with that volume set to grow by 50% over the next 12-18 months.
In a global survey of 1,300+ leaders, Splunk discovered that 55% of the data their companies collected was "dark". Dark data is information that's collected, stored, and processed by businesses—but not used for anything.
That's a tremendous amount of information to manage and derive absolutely no benefit from.
Companies are drowning in data that doesn't serve them in any identifiable way. That's the experience that drives disenchantment. And it's the specific experience that leveraging the right data for growth addresses. It's the reason we built the Growth Data™ platform, which exists to deliver data that's specifically actionable for accelerating revenue and productivity.
Yes, such a thing does exist. More on that in a moment.
Major indicators that your data isn't actionable for growth
If you are running a company that's producing too much unusable data, you probably know it. But if you're not sure whether you have a data problem, we've observed a few major signs.
These are all indicators of poor quality, dark data that isn't actionable for any of the outcomes you actually want to see:
Your leads cannot be attributed to revenue
There's no cross-functional through-line connecting lead to deal to revenue generation. Too much of that journey remains under the line of visibility.
You can't link specific sales activities to revenue
You don't have visibility into what specific sales activities lead to revenue in the shortest amount of time. There are, in fact, types of meetings that close deals faster in your organization, but that's not common knowledge across all departments. It's not even common knowledge among sales team members.
Your systems gather contacts but do not identify ideal customers among them
Information is gathered without strategic focus, flooding your systems with poor quality data. Your business doesn't know which contacts to prioritize.
You're unable to forecast revenue despite tracking all sales deals
Leaders with the right data for growth are actually able to confidently forecast what their team will generate in a quarter or a year.
The first step to accessing the right data
The name of the game is leveraging data that's specifically actionable for revenue and productivity acceleration. To build this platform that leverages this data, you must map out the way revenue flows through a company, including business processes and key triggers (e.g., how a lead becomes a deal). This can inform a data model that tells the (real-time) story of how revenue is actually generated, stage by defined stage, in your company.
To kickstart this process, you always start with the same task. And it's one that you and your team could certainly tackle right away to start stemming the overwhelming tide of unactionable data.
The starting point for accessing the right data is to assess whether the data tools in an organization are connected and allowing data to flow across all functions. In your assessment, consider which tools are used by the various departments, from automation to customer relationship management platforms. Ask yourself: are these tools creating data silos?
If data doesn't flow across all tools, from function to function, then too much of your customer lifecycle is hidden below the line of visibility. And all the information that you collect about various aspects of this journey—but don't connect into a single story of revenue generation—ends up in the dark data dustbin. It doesn't have to be that way.
The right data ends the growth struggle
You might have already invested tens of thousands of dollars into analytics, and all you have to show for it is dozens of Terabytes of unusable information. It's a growth struggle that many leaders face, and the good news is that there's a solution.
Leverage the right data for growth—data that's specifically actionable for driving revenue and productivity—and the struggle ends. It becomes incredibly clear which actions to take to accelerate growth.
For example, one of our clients now knows that his sales reps need to complete a certain number of specific types of meetings while monitoring their average deal size to reach targets. The data that their Growth Data™ platform delivers are monthly indicators that allow for timely course correction, better management decisions, and confident growth planning. It's the reason why this client has been able to double revenue.
No more disenchantment.
When it comes to the right data for growth, there's a lot more to learn. That's why we've written a complimentary guide to harnessing the right data to accelerate revenue. You can download it here: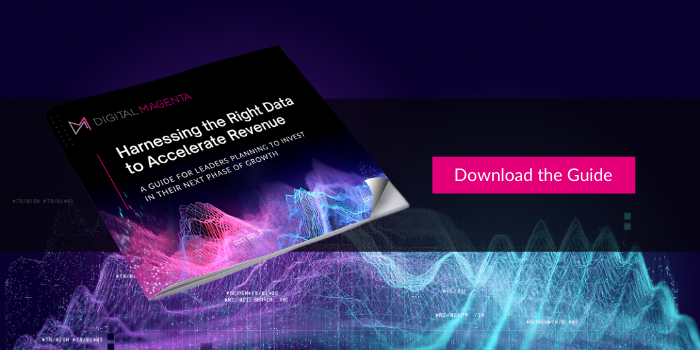 About Digital Magenta Inc., The Growth Data People™
Digital Magenta is the first consultancy to specialize in unlocking the right data for revenue and productivity acceleration. Their Growth Data™ platform sets an unprecedented standard for how data can specifically drive revenue. It identifies cross-functional revenue-driving activities, visualizes real-time data targeted for growth decisions, and allows companies to scale through automation. This program has enabled companies to break through plateaus, double their revenues, and exceed revenue goals even during a severe economic downturn.
© 2021 Digital Magenta Inc. All Rights Reserved.
---
[1]https://www.gartner.com/en/marketing/research/marketing-data-and-analytics-survey-2020
[2] https://www.gartner.com/en/newsroom/press-releases/2020-10-07-gartner-reveals-more-than-half-of-marketing-leaders-a
[3]https://www.globenewswire.com/news-release/2018/10/22/1624837/0/en/Fortune-1000-C-Suite-Survey-96-See-Their-Marketing-PR-Teams-as-Unwilling-or-Unable-to-Prove-ROI-Increasingly-Top-Companies-Are-Turning-to-Finance-Procurement-to-Lead-the-Effort.html
[4] https://www.idg.com/