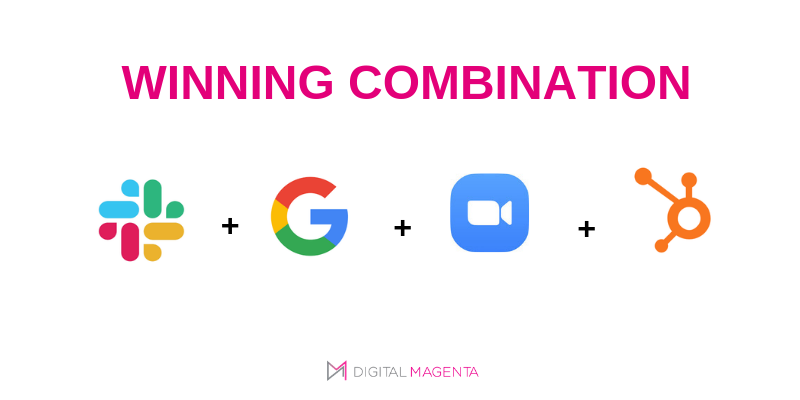 Technologies We Rely On
With so many tools available today, it is hard to know which ones are going to make an impact. Sharing some tips on what we do to create efficiencies in our own organization.
We rely on Slack + Zoom + Google + HubSpot to communicate with our team and customers alike. HubSpot is the backbone of our marketing and sales set up. Here is how cross integrating our stack is helping us to create massive efficiencies:
Slack + HubSpot (Chat):
I was in the middle of some pretty intense project conversations on-site with a new client. At the same time, someone initiated a chat on our website. Instead of distracting me from the client I was with, I instantly got a notification from Slack with a preview of what the chat said and who on my team was taking care of it. Pretty amazing right! We are able to service our customers without delay or interruption with a lean team by leveraging automation enabled by the right integrations.


Slack + HubSpot (CRM Tasks):
Cross integration means that I don't have to have HubSpot open just to see a task notification. Instead, these notifications show up on Slack and link directly to the task details. This makes it easy to handle the task in a quick manner without jumping to different screens. It may sound easy to just have two screens open, however realistically speaking when you are toggling between a number of activities it is one extra thing that we need to plan for and action. This integration automatically weaves it into my daily activities.

Slack + HubSpot (Documents) + Gmail:
If you're in sales or bizdev, you know just exactly how intense it is to wait for a response from a potential client after sending out a proposal. Instead of feeling like you're watching a nail-biting finish to a thriller, checking my email every few minutes, I can rely on Slack to notify me instantly whenever a proposal is viewed with a link to HubSpot for more details - way better than checking your email every five minutes.
Slack + Google (Calendar) + Zoom:
I'm not an Outlook or Apple Mail user, so I used to rely significantly on my phone calendar notifications. Google Calendar sends me a Slack notification with a summary of all the meetings for the day, with details on what I have accepted and which ones need a response, also provides reminders before a meeting starts, so I'm always ready and on time. Zoom also integrates tightly with both Slack and Google calendar making the whole experience seamless, with a /zoom command on Slack - a zoom meeting can be initiated, with a click of a button the google meeting gets zoomified!
Slack + Google (Drive):
Instead of opening a Google Drive document every time someone made a comment or shared it, I simply get a Slack notification that pops up like a chat. I can review and if necessary, easily access the document for more details.

Zoom + HubSpot (CRM) + HubSpot (Workflows):
You can track zoom webinar attendance in HubSpot CRM. On registration, the contact is created in HubSpot. Using HubSpot workflows you can send them automated event reminders, follow-up emails, and more. You can also see when contacts register and attend webinars and how long they typically stay. Sounds amazing right?

Why run around doing manual tasks when with the right integration, most of the work can be automated!

All four technologies are connected seamlessly into the process which helps me to focus on the right efforts in moving our business forward.

We believe that investing in modernization is important for organizational success but connecting your stack is critical to maximizing the value of all your tech investments.
What little things really make your days better? We want to hear from you, what's been working and where are you struggling?