There's treating the data you need to reach your goals like an afterthought. And then there's the data-first approach. The former is typically unstructured, unsystematic, and unstrategic. The latter is focused— and above all else, geared towards producing an organization's desired outcomes by giving leaders the data they need to drive growth.
How does the unstructured approach manifest organizationally? We think of the marketing leader who is unable to identify whether the last $100,000K campaign investment resulted in paying customers. We think of the sales leader who has insufficient leads despite the fact that their CRM/marketing system holds thousands of industry contacts. We think of the CEO who acutely needs to grow revenue but knows that sales forecasting is completely unreliable.
Fundamentally, an organization with the latter, data-first approach successfully equips its leaders to make the decisions that will get the business to where it needs to go. PwC reports[1] that organizations that do this are three times more likely to experience improvements in decision-making.
A data-first approach is a fundamentally simple concept. Yet it's surprisingly rare. Multiple studies[2] show that less than half of an average organization's structured (i.e., captured within a model) data is used for making decisions. Less than 1% of its unstructured data is used at all. And 80% of an average data analyst's time is spent just discovering and preparing data.
That's not a data-first approach. That's an unfocused, unstructured, time-and-resource-wasting approach. That's treating data like an afterthought, rather than as a critical strategy for driving organizational goals.
There's a far better way.
The four ways data-first drives revenue
Of course, "better decision-making through data" is an increasingly common goal these days. But what really distinguishes a data-first approach?
Ultimately, it's about structuring data in such a way that you are able to drive growth:
| | |
| --- | --- |
| Outcomes | What it looks like |
| 1. Know which activities truly drive revenue. | Our webinars resulted in leads that turned into repeatable long-term customers. |
| 2. Verify that teams are working systematically to turn opportunities into customers | The sales team is on track to generate desired growth and is tracking well against "key scoping meetings per rep per week". |
| 3. Understand, step by step, how an opportunity becomes a customer in the most efficient way. | 360-degree customer lifecycle view and sales stages show progress as the opportunity moves from lead to customer. |
| 4. Align the entire company around metrics that are truly meaningful to organizational goals and integrated into daily operations. | Sales and marketing scorecards drive team meetings to reach revenue goals. |
Without these core capabilities, we see:
Revenue that leaks away below the line of visibility.
Slow growth.
Inability to scale.
A lack of clarity at the C-level over whether teams are working on the right activities.
Leaking talent: people with the potential to be top performers who leave a company because they aren't set up for success.
Above all else, a data-first approach creates a template for growth. It does this by finding the data that truly informs revenue-driving decisions and ensuring it can flow freely across your organization. It sets a standard for how your data can be collected and used specifically for growth, so your organization isn't drowning in unactionable data. It's holistic, cross-functional, and geared towards supporting everybody across the revenue-generation spectrum to take the actions that will fuel growth.
In a nutshell, when leaders follow a systematic data-first approach, they:
Determine growth goals and guide the specific actives required to achieve them

Invest in repeatable revenue-generating activities

Grow the business with less overhead
It's about saying, "How much do we want to grow, what specific information will help us to do that, and what do we need to build to get that information flowing to us in real-time?"
Where it starts
How can leaders start to build holistic, cross-functional systems and processes for meeting organizational goals? There are a few key steps to kickstart the process:
Formulating a data strategy
Can you articulate your organizational goals (e.g., doubled revenue) and get perfectly clear on what questions you need your data to answer in order to meet these goals?
Setting up access to foundational KPIs
Can you set your organization up to report on foundational KPIs like forecasting, the time it takes to close a deal, sales revenue goals, and proven revenue-driving activities?
Mapping out data and connecting revenue-generating departments
Can you look at the end-to-end customer lifecycle and determine how revenue flows across it, from department to department? Can you close the gap that so often exists between sales and marketing teams, ensuring that they have processes that allow them to seamlessly manage the customer lifecycle?
Data-first sets everyone up to succeed
Every day, more organizations are learning how to prioritize data to remain competitive and build success-oriented cultures. In its essence, it's not complicated. It just means structuring data to support teams and leaders to make the decisions that will drive desired outcomes. Instead of producing data points in an ad hoc, unfocused manner, data is captured within a holistic, cross-functional data model that informs superior growth decisions.
And at the end of the day, what other goal trumps growth?
If you want to learn more about how growth data accelerates revenue, our guide for leaders will get you quickly up to speed.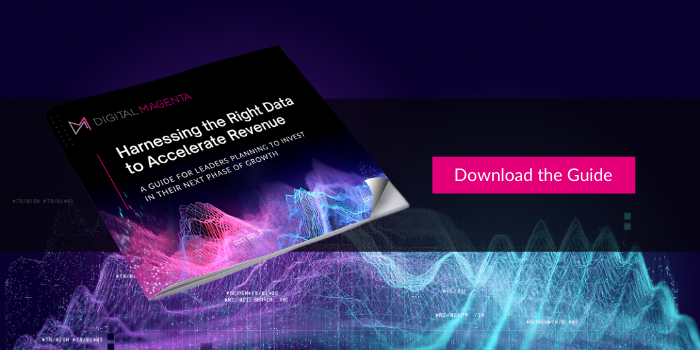 About Digital Magenta Inc., The Growth Data People™
Digital Magenta is the first consultancy to specialize in unlocking the right data for revenue and productivity acceleration. Their Growth Data™ platform sets an unprecedented standard for how data can specifically drive revenue. It identifies cross-functional revenue-driving activities, visualizes real-time data targeted for growth decisions, and allows companies to scale through automation. This program has enabled companies to break through plateaus, double their revenues, and exceed revenue goals even during a severe economic downturn.
© 2021 Digital Magenta Inc. All Rights Reserved.
---
[1]https://www.pwc.com/lv/en/about/services/IT-services/data-analytics.html
[2]https://hbr.org/2017/05/whats-your-data-strategy